Back to front page




2019, October 19

The newest issue of "Synergi" is now out for sale at Tronsmo Oslo! Get them online here!


---


If you are in Oslo, you still have time to see the exhibition "Elephant not irrellevant" at Brewgata. Vitness a room full for different artists take on the Elephant. All the money from sales goes directly to David Sheldricks foundtation, and orphanage for elephants in Kenya.


---


2019, September 11

Get the first two issues from the new underground comic collective "Synergi" while they are still avalible! Some of my stuff is in them, proud to be a part of this one. Get them at Tronsmo Oslo, or just click the link here!


---


2019, March 29 (update June 7)

From March to May 2019 my comic strip Stress was first out to guest Aftenpostens new concept "Duellen"! Keep following and discover new talents!


---


2018, March 21

My comic strip "Stress" will be exhibited at Serieteket in Oslo from March 21st. to May 2nd. 2018, as a part of the exhibition "PANG! PANG! 12 treffsikre kvinnelige stripeserieskapere" (12 female comic strip creators from Norway, Sweden and Denmark). Here is the link!

The exhibition will be popping up at numerous locations all around Norway, so be sure to check in with your local library!


---


2017, October 22

Since the last update here on my not so busy newsfeed (two years ago exactly!), "Stress" was born. This comic strip came in amongst the top ten finalist in Dagbladets tegneseriekonkurranse (a well known comic strip-writing competition arranged by the norwegian newspaper Dagbladet), and has so far been published in the norwegian comic magazine Pondus nr. 7, 8, 9 and10 (2017). Here is a few for you to enjoy!


---


2015, October 28

I am finally releasing my brand new online comic concept EGONOIA! You can check it out and follow it on Tumblr, Facebook and Instagram! Enjoy!


---


2015, October 20

Showing off my acting skills in the newest music video from Mirramaze: "Mean Things"!




---


2015, October 4

I would like to congratulate Schneider Urt AS whith the opaning of a brand new AMAZING concept in Kongsberg, Norway, and thank the company so much for using me to design the logo. I am honoured! Check out Schneider Urt AS here!






A while ago, this music video of my song "The Blood Song" (performed here by Third Seven) was released by Daveoramma. Thanks to everyone involved! Here it is for all of you to watch:




---


2015, March 15

My latest animated music video has been released! Thanks to Third Seven for the beautiful "Himinn". All animation is drawn directly in photoshop, exept the background scenes which are edited photographs from different places I have lived. Enjoy!




---


2014, August 1

My comic book "YOU GONNA EAT THAT" is now out for sale in Gateavisas webshop, and you can get it here! There is only a few of them left, and these are the wery last ones that ever will be printed. A new comic book is under construction- so this is your last chance to get an issue of "ARE YOU GONNA EAT THAT?" before it is to late! The money from the sales will go directly to the cause of rebuilding Gateavisas home since 1970- after it got struck by lightning in june this year....The last issue of the paper got consumed by fire and water, but you can still buy the paper digitaly here!





"Atlantis" is now finally out on a 7inch flexi-disc vinyl, and can be bought at all upcoming Third Seven shows! It contains both the Norwegean and the English version og the song, hidden in a book with images from the cartoon. Check the song (and video) out here!


---


2014, June 6

A new issue of Gateavisa is out once again! I have been well exposed in this one- with a presentation off myself as a cartoonist, a seven page comic, and a one pager! This is all in Norwgian off course, but if you happen to BE norwegian, you can check out and order the new issue here!


---


2014, May 31

I give to you here my very first animated project: the music video for Third Sevens new release Atlantis! All the drawings are made with ink on paper, and shaded in photoshop. It took me three months to finish, and I am exitet to have tought myself a whole new expression of art!




Here is some images from the process of making Atlants:



Drawings of motion, done in ink on transparent paper (the scene on the left was never actually used in the finished movie)




Motions before and after being shaded and put together in Photoshop.


---


2014, April 11

The Vampirates-Third Seven-split "Post Genre" is finally ready to be handed out to the masses! It's a dear release to me, not only because I inked the cover, but because it has one of my songs on it. And that has never happend before.




Some of you have aldready heard Third Sevens awesome verson of "The Blood Song", but if you wanna hear me sing and play the original, you can find it here! The album will be brought to all upcoming shows- check out the calendar here!


---


2014, January 24

For almost a month I've been back in the US, spending my days doing visual arts for Third Seven. The first poster of 2014 is already in print- check out the image below! Because there is a lot more to come of Third Seven-related artwork from my pen, I've made a whole new gallery for it here on my website. You can find it here!




I have also been working silently with a brand new comic-strip project that I am exited to see where is going. It's the first time I'm using colors in my comics, and it's the first time I'm doing strips. But what the hell, trying out new stuff is fun! Here is a teaser, just for you!


---


2013, November 28

Has nothing happened in Ingrids world since June 12??? Yes, plenty, but nothing that needs to go out on the internet just yet! Exept this brand new Third Seven release that i highly recoment you all to check out: Surrender. You will love it! In the world of comics and artwork: There will be brand new stuff for me to wave around in here very, very soon!


---


2013, June 12

Here it is: The Third Seven "Cascadia" VINYL! This is a very limited release, and the first fifty are all hand water colored, like the one below. The song "Souvenir (part 2)" (the one with the toy piano/glockenspiel) is ONLY to be found on this vinyl- along with the single "Destination Now", "Something Oceanic" and Elliot Mickelsons original piano-composition of "The Road". Get one befor it is to late!


---


2013, May 22

Today is the day: The first day of a four month long world wide tour with Third Seven! We will be driving all the way from the Oregon coast till Nashville, Tennessee, and then jump on a plain to Barcelona once again, and take on Europe and Norway from there =) Quite a lot of states and countries will see us come and go, so please, check out our calender if you wanna know when we are coming to your town!




Sadly, my sweet toy-piano does not get a ticket to Europe. It will be replaced with this new toy-glockenspiel, wich is way easier to get on board on a plane. My comics on the other hand are coming with us as they are! So below you see my complete artistic contribution to Third Sevens third European tour! I could not be more exited!! And don't forget to look out for the poster you see on the right-that octopus means we're coming =)


---


2013, May 4

This fresh video from Bend, Oregon shows what I'm doing on stage these days with Third Seven, and next to it, you see the instrument i play. It's my only act so far, and I'm incredible proud of being a part of this amazing song! If you fancy what you hear; check out our calender, come see us, get a comic book and a CD and ENJOY LIFE =)


---


2013, April 17

The new issue of Gateavisa is finaly out in the streets, and it can be yours for the humble price of 40 NOK. If you live in Oslo, keep your eyes up for the street sellers, and if you don't live in Oslo, order at www.gateavisa.com. If you don't read norwegean, you can enjoy google translateble articles on the same web site =) I'm proud to have one of my one-siders on print in this issue- but even more exited to see that it's packed with other awsome comics as well! If you are of the sereous kind, fear not, it's got articles and writings to challange your mind and believes...

If you turn the paper around, you will also find that you've got the new issue of På Høy Tid from Normal. Check out Normals website here!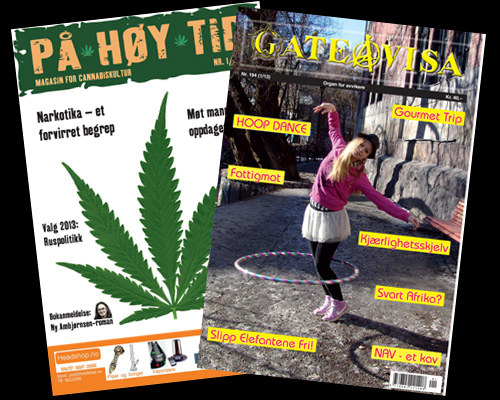 ---


2013, April 5

This may not be "news" in the words actual meaning, but I still want everybody to se this video of Third Sevens "Destination Now", filmed by Jeb Draper (in his own basement) in Denver CO on june 7th 2012. It's an awsome video and a beautiful song first of all- but second of all- I'm in it! So if you wanna check out my "acting skills", click play!



I've also got a few buisniss cards out there; the one with the fish is being replaced with the one with the screaming guy. I've been stuffing them both in Third Sevens album "Cascadia", so if you are reading this after finding one of my cards in your new CD, that makes me very happy =)


---


2013, March 19

I am SO exited to present my first independent comic book : "YOU GONNA EAT THAT?"! It's got thirty two pages of comics and artwork- some of it stuff you've NEVER seen before! Brand new characters and lots of fun =) This is also the first time my comics are published on paper in english!

If you wanna get a copy- send me an e-mail at ingrid@bomann-larsen.com . I will also be bringing them with me on my tours with Third Seven, so make sure you stay updated on the shows. The image on the right is the 2013 poster/flyer (yes-that's my drawing, and I'm pretty proud of it ;) -so if you see this hung up anywhere near you, make sure you come to the show!


---


2013, January 10.

First of all: This this news page is new! I've come to the conclution that I might need one from now on. I am currently living a travelers life with the artist Third Seven, and I will be staying in the United States until june 2013. If you wanna know where I'm at, check out the list over shows!

Because of this new, international way of living, this web page has now been translated to english. That includes my comics! Since a professional translator would have expected to get payed with money I don't have, I've done it myself. Please look the other way if terrible spelling occurs, I've done my very best =)




And not to worry norwegean fans, I kept the originals as well! They are to be found under Comics.


I would also recomend any comic-fan who lives in Norway to buy Gateavisa if the opportunity comes along.




Older comic-and cultural numbers are still available, so send an e-mail, and they can be yours forever! My comics are to be found in the three latest numbers (so far), including new stuff that don't exist in this page.


HAPPY NEW YEAR!!! Much love to everybody around the globe!!!